Nostalgic and Still True
Last night before bed, I watched the movie "You've Got Mail" with my man-friend (who fell asleep within the first hour of the movie).
The movie stars Tom Hanks (as Joe Fox) and Meg Ryan (as Kathleen Kelly): two strangers who begin to develop feelings for one another as they write emails via American On Line (AOL, and yes, "online" was spelled "on line" by Hanks in the movie while he types) back and forth after they had a chance/fate-like meeting in an online chatroom for people over-30.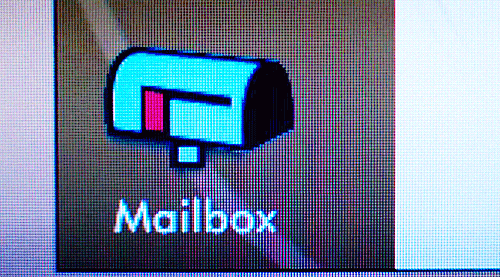 The twist in the film's plot involves the coincidental fact that while they know nothing about the person they are writing these emails to with regard to true age/weight/physical appearance/or marital status—at least not at first. Nor do they know their careers, familial relations, colleges or educational levels. In fact, they do not even know that they both live on the Upper West Side of Manhattan.
Coincidentally after these two had been writing back and forth online, they cross paths in real life as business rivals in the book industry. Kathleen Kelly owns a small family inherited book-shop, "the Shop Around the Corner" whose survival is threatened by the big bad corporate book store opening around the corner from her shop—Fox Books.
Kathleen Kelly's Shop Around the Corner Image: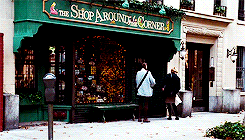 Consequently, Fox Books is owned and operated by the Fox family, Joe Fox being the third in line from the male-run and dominated mega-store. If we were to put this into a scenario people could understand in 2018…
In 1998, Barnes and Nobel was to small book store owners what Amazon.com was/is to Barnes and Nobel in 2018. And now in 2018, indie book store owners would be able to compete with both. In fact, in 2017, the American Booksellers Association had an increase of store openings (seven years of growth) despite a slight decrease in Association membership: (Read Article)
Kathleen Kelly taking business advice from her online stranger-friend to fight the big book store: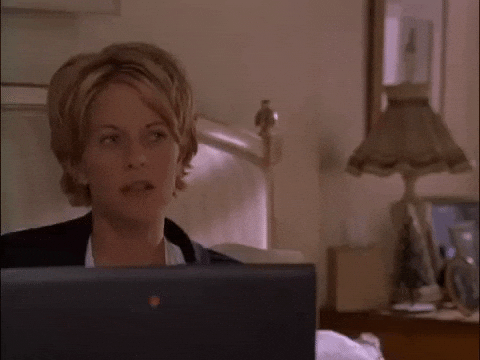 In 1998, AOL mail/chat was an outlet for anonymous strangers to vent and disclose information privately like the 2018 equivalent of the paid service Talk Space (https://www.talkspace.com/) or a chat-roulette without images in an endless thread of …emails.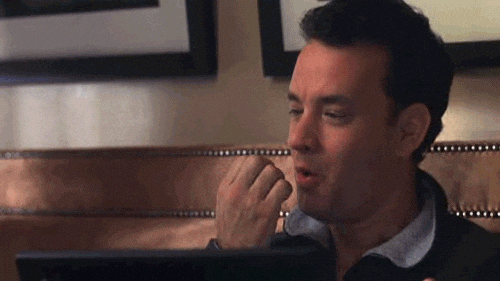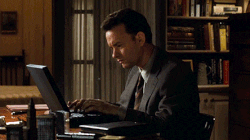 Essentially the whole interaction between Kelly and Fox in the film is a little bit creepy and sort of weird. Most of the film was essentially major disclosure between "a friend" found from the '80's/90's "Personals" section of the newspaper. Only in this scenario, the pen-pal has even less information (not even a phone number to talk/hear a voice or disclosing preferences in a partner) and with a far more efficient medium than pen-paper-stamp mail. If you're not old enough to recall what the "Personals" section is, enjoy this (link).
The movie is actually based on an original movie from the 1940's where people actually wrote letters back and forth to each other (Shop Around the Corner). In 1998, the remake incorporates what was then seen as an innocent and accidental conversation between two implied adults (met in over 30 chatroom) who both live in the city, have significant others they do not love enough to marry nor to disclose information about their online correspondence with a total stranger to.
This movie takes place in the era of dial-up AOL where signing on after a not-so-soothing alien-esque sound "welcomes" a user with an excited male robot voice declaring, "You've got Mail!" Before text messaging, before "Googling" was added to the dictionary, before "The Facebook" existed and subsequently became "Facebook." And definitely well before, albeit not so far off, from the experience and possibilities of the various buffet of options in the online-dating apps/digital dating companies. I will not take the pleasure out of this nostalgia inducing romance by telling you what happens after they meet, but I will point out some points that are important now as they were in 1998 when meeting a stranger.
Here's the various reasons the characters and decisions in "You've Got Mail" were as good in 1998 as in 2018 if the characters made the same choices:
Meeting a total stranger in a public location. Meeting in public then and now is still a smart idea as it coincides with safety in numbers mentality and witnesses should the date/first meeting present two incompatible/very different than the one expected. This was a much better idea than meeting at an apartment or a remote location. +1 for this decision.
Meeting a total stranger in a public location with an identifiable book and object (rose and a book) without telling anyone where you are going (a friend, family-member) or checking in with anyone while at said get together (calling during the date to let someone know how you are doing). In 2018, 20-40 somethings in NYC readily utilize online dating apps to meet up with (or sometimes hook up with) people they may or may not know much about. In this scenario, Kelly was readily visible, and any stalker or dangerous person could have waited for her to leave the restaurant and follow her to her home or to a remote location. E-harmony's Vice President of Content provides a number of different safety tips and somewhat brushes aside the statement that "1-2% who might be dangerous." (link to E-harmony article). Imagine you're at a large restaurant with 50 couples on a date. 2 people are on dates with someone who might be dangerous according to that percentage. That's another reason to prepare for every date by letting someone know you're going on a date and when to check in, and another reason to set up an excuse to leave if things aren't going as fairy-tale ending as expected. If you haven't heard about it, Chelsea Handler's app, "Gotta Go" is a great app for any excuse you need.
If you are at all on a schedule for work (always working over here) then you should even set this up with people when you're at meetings. You can plug in who the caller is and the name (I sometimes put in competitors or big clients I have) and then ignore the call and make whomever you're out with feel extra special and/or important because you didn't answer. For this to work, you obviously have to leave the phone face-side up and make sure no one else calls (i.e. "MOM" four to five times or "Tinder Kevin" etc.…) but it can come in handy for an escape if you aren't good at hard-stops.
Ask ASL at the very minimum if you are talking to any non-business stranger who messages you via cell, email, text, whatever. ASL or A/S/L is the rhetoric of kids born in the mid-80s or any person around the US who ever entered a chatroom or had an AOL free-trial and entered a chat room. ASL or A/S/L was slang for "Age, Sex, Location"? The users would message on an instant message (this happens in a movie as well) and when the Fox character wrote he said something along the lines of "I had a feeling you would be on line." This is somewhat creepy. Imagine a geolocated Tinder that allowed anyone who saw your user-name contact you (without seeing pictures of either party) and not knowing if you lived on opposite costs, were 60 years in age difference, or if it might be your 60-year-old-in-age difference neighbor who is married and doing the old-school creepster equivalent to a sext (or instant message) attempt. All I am saying is that Kelly should have responded, "I know we agreed not to get personal, but how old are you, where do you live, and are you a guy?" She could have continued. I would have begged her to do something beyond this, but for purposes of talking to strangers, the eerie coincidence that they not only met IRL (in real life) while writing anonymously in an over 30's something chatroom…well, odds of that were pretty slim to begin with. If someone looked at this objectively, they'd say, "Well, Kelly, you have a stalker on your hands" or vice-versa. The next point is equally important and just NOT stupid…
Know their name! Tell someone else their name and phone number. Or at least HAVE their phone number so you can be reached if something happens or the cops can track them down, haha (not really haha). Okay, so "Google-the-first-and-last-name-to-find-any-red-flags" diligence is something I haven't done on many occasions of communicating with a person met through an online dating app like The League or Tinder. But at a minimum, make sure someone (it does not have to be your mom) knows that you're going out with First and Last name (or first name if you've googled them), their phone number (just in case), and where they work or some facts about them you could verify via the beautiful Internet that no longer requires dial-up to get on
I'm going to stop at point 4. The moral of the story is that when it comes to online dating or talking to people you have not met in real life, well, it can be super weird and tricky. When you disclose personal information without knowing who the other person is, it might feel like you can trust this person or know who they actually are. In truth, the idea that someone understands us is somewhat of an illusion. Have you ever seen a picture of someone and then met them in person and thought, wow they look NOTHING like the photograph! All I can say is imagine if Kelly had shown up to coffee shop and someone showed up and sat down across from her wearing a Chewbacca costume. Even worse, a Darth Vader costume. Even worse, someone that resembled Chewbacca or Darth Vader without a costume with a personality to match. Careful kids, in NYC, these ideas COULD happen…especially when meeting on the UWS within the reach of a Times Square character. J